Capturing the Past Photographic Seminar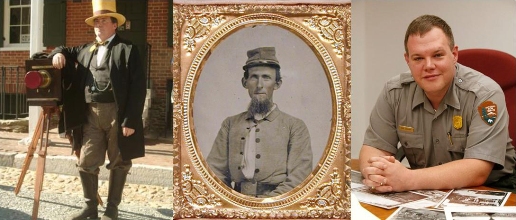 Todd Harrington, Ambrotype of Pvt. Lloyd W. Surghnor, Mike Gorman
Saturday, June 22, 2013
Seminar 10:00AM-12:30PM
Photo appointments available 12:30PM-5:00PM
Museum of the Confederacy-Richmond
During the Civil War and for the first time in history, the cost of war was made real through the use of photography. Saturday, June 22, the Museum of the Confederacy is hosting a seminar which discusses photography of the Confederate Capital of Richmond, Virginia, as well as the actual process used for taking 19th-century style photos.
The day begins with Mike Gorman, historian and National Park Service ranger, as he presents his talk, "Richmond Again Taken: Photographing the Confederate Capital, 1865." Using multimedia, Mr. Gorman will reveal extremely rare photographs of Richmond and important discoveries made by studying them. Also on display will be selected photos from the Museum's own rich collection.
For the final presentation, collodion artist Todd Harrington will discuss the history of photography and will demonstrate the wet-plate process. Appointments can be made during the afternoon to have your own ambrotype or tintype photo taken by Mr. Harrington. Prices for photos vary. Click here for details.
For members, the Museum is offering a special reduced ticket price. Members can preregister for the seminar for only $5. Tickets are $15 in advance for non-members. At the door, cost is $15 for members and $20 for non-members. To register, contact Kelly Hancock at (855) 649-1861 ext. 121 or khancock@moc.org. Register online by clicking here.